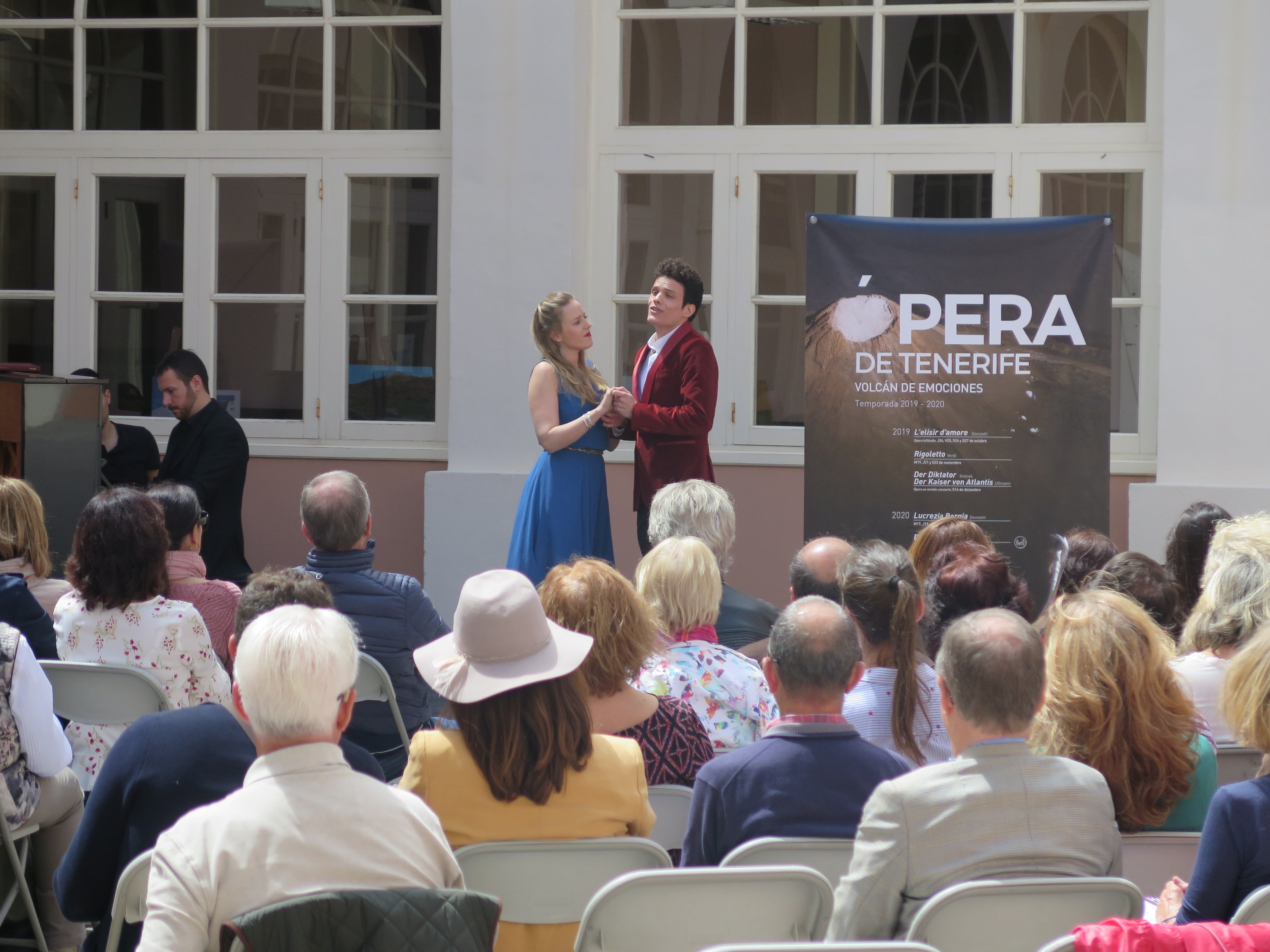 Ópera de Tenerife continues to bring this genre to different municipalities on the island. On Sunday, the 22nd it is offering an opera recital at 1:00 pm at the cloister of Convento de los Padres Dominicos, in the town of Candelaria. The activity is promoted by the Island Cabildo through Auditorio de Tenerife and the collaboration of Candelaria Town Council.
This recital runs parallel with the promotional activities of the Ópera de Tenerife season that starts next October with L'elisir d'amore, a title to be performed by the singers chosen for the Seventh Opera (e)Studio.
Some of these singers will be singing this Sunday in Candelaria. We will have the chance to listen to soprano Beatriz de Sousa, tenor César Arrieta, baritone Alberto Bonifazio and bass Givi Gigineishvili, who will be accompanied at the piano by Claudio Marchetti. Opera (e)Studio's artistic director, Giulio Zappa, will be the host of the event.
The audience at the cloister will enjoy pieces of L'elisir d'amore, by Gaetano Donizetti, such as 'Quanto é bella, quanto è cara'; 'Come Paride vezzoso'; 'Una parola, or Adina... Chiedi all'aura lusinghiera'; 'Udite, o rustici'; 'La ra, la ra, la ra... Esulti pur la barbara'; 'Venti scudi!' and 'Una furtiva lagrima'. Admission to the recital, which closes with a titbit, is free.
L'elisir d'amore is a melodramma giocoso by Giacomo Donizetti and the production to be staged at Auditorio de Tenerife is included in the high-specialization academy Opera (e)Studio that is funded by the European Commission's programme Creative Europe.
The most famous comic opera by the composer will be performed at Auditorio de Tenerife's Sala Sinfónica on 24, 25 and 26 October at 7:30 pm and on Sunday, 27 at 6:00 pm. It is a coproduction of Ópera de Tenerife, Teatro Comunale di Bologna and Tbilisi Opera and Ballet State Theatre.