Opera (e)Studio also seeks to bring the work and the love for opera to people by means of different activities they can take part and get involved in.
For 2019-2020 Opera (e)Studio we will focus on the great opera by Donizetti L'elisir d'amore to be performed four times from 24 to 27 October 2019 at Auditorio de Tenerife, and at Teatro Comunale di Bologna and Tbilisi Opera and Ballet State Theatre in 2020. To gain an insight into this iconic piece in the history of opera we suggest the following activities, which are sure to make you enjoy it even more.
The dates are not confirmed as yet but we expect to announce them very soon.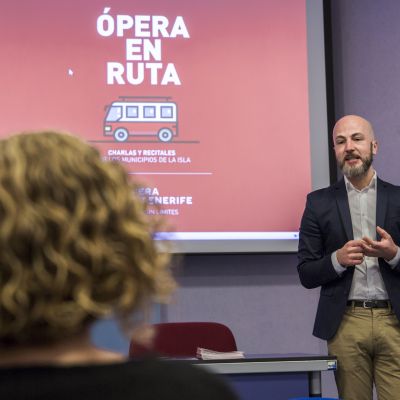 Ópera en ruta
Ópera en Ruta (Itinerant Opera) is an Ópera de Tenerife's didactic initiative which consists of 60-minute talks given in different municipalities across the island of Tenerife to learn about the ins and outs of the world of opera: from the main features of each title being performed at Auditorio de Tenerife to anecdotes related to the author, the characters or the historical context. Every opera will have an itinerary of its own and the talks will take place a few months ahead of the performance.
The dates to talk about Donizetti's L'elisir d'amore are yet to be confirmed. Admission to this activity is free.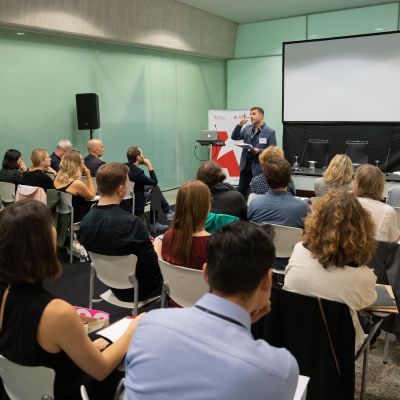 Ópera Fórum
Ópera Fórum is a new way of bringing opera to all citizens. With this new project the ins and outs of opera are explained in different meetings to take place throughout the season. They follow a holistic approach so that all the aspects involved in an opera can be understood. These sessions are given by different opera professionals to help pull down the myths that cast a shadow on and prejudice against opera.
Opera Titbits
Opera titbits are recitals aiming to spread the love for bel canto in different venues across the island of Tenerife. We will let you know when the next events take place.
Admission to this activity is free.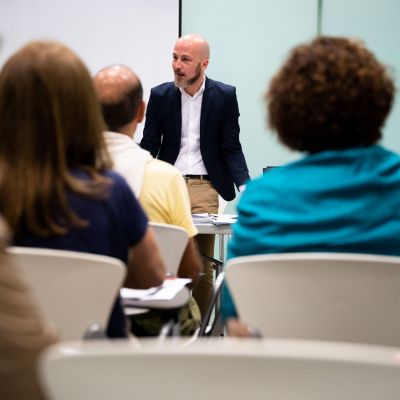 Escuela del espectador
Escuela del Espectador (Audience School) is a participative project in which a group of citizens, who need not be knowledgeable about opera, attend some meetings to look into the different artistic languages included in our programme. A total of 30 people take part in workshops and meetings to share ideas on how to analyse a show, gain basic knowledge about each genre in the programme, and specific talks on individual shows, including free attendance and later analysis of the opera. Discussing, agreeing and disagreeing, etc. are encouraged.
The call for the 2018/2019 course is closed. The next call will be announced in autumn 2019. Do contact us at This email address is being protected from spambots. You need JavaScript enabled to view it. if you have any questions.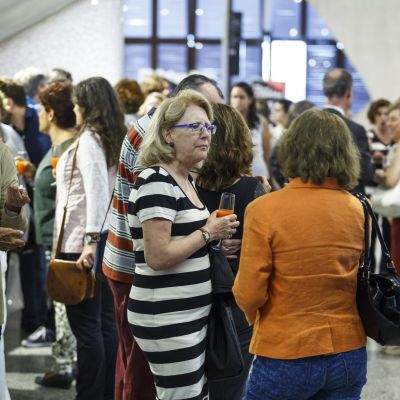 Activities for Ópera de Tenerife subscribers
Ópera de Tenerife's members enjoy a series of exclusive advantages and experiences such as visiting the backstage, guided tours to see the stage designs, talks with directors and singers… It is a way of making the most of every single season title.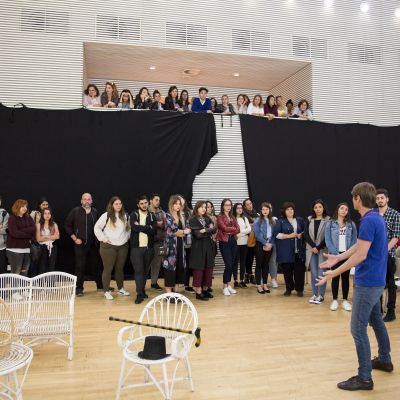 Open Days
With Open Days, Ópera de Tenerife aims to show citizens the ins and outs of producing an opera by different departments. Staging a major opera production requires the effort and work of different professionals who are often unknown to the general public. These visits are about them.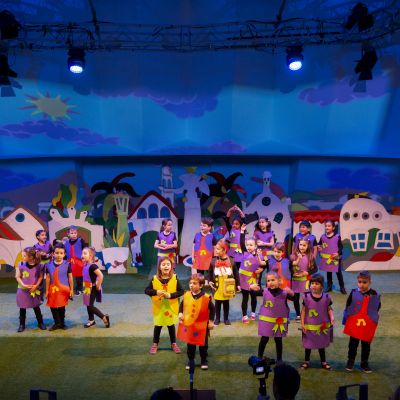 Activities for schools
In collaboration with education centres we organize performances for schools involving active participation of children and teachers alike, and the help of pedagogic material we put together for each programme. We also offer performances for the whole family. Children and teenagers have different sensory experiences through these productions: touching, looking, listening to and exploring music and the performing arts. This way we are not only offering leisure but also art awareness.
Programs:
a) Ópera en Familia (Family Opera): Ópera en familia is a permanent initiative by Ópera de Tenerife which consists of adapting a season opera for a younger audience as part of our commitment to developing young audiences and the general awareness of all cultural processes. In parallel, this work stimulates the creation of a solid base of sociocultural criteria in future generations and the spreading of crafts and professions through the largest centre of cultural production in the Canary Islands.
b) Manos a la Ópera (Hands-on Opera): the Manos a la Ópera scheme is targeted at school children who we work with through their schools to create a free version of an original opera where they are the artists, producers and stage managers. Parents and other family members also take part in the creation of the show by coming to the workshops at Auditorio de Tenerife, where costumes and stage designs are made.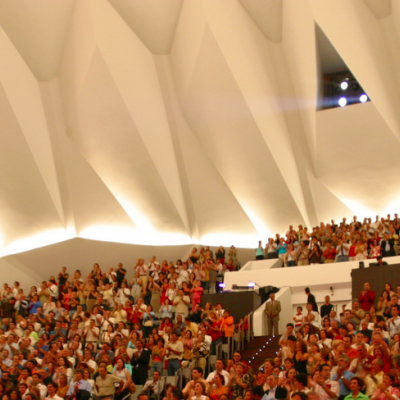 Talks
Throughout the season, Ópera de Tenerife offers talks on different topics where the audience can share moments with major speakers from different areas related to opera. With these talks, we wish to contribute to build active citizens in Tenerife as well as provide audiences with critical knowledge. Part of this section is 'Primavera Violeta' (Purple Spring) one of the ways Ópera de Tenerife promotes gender equality values.