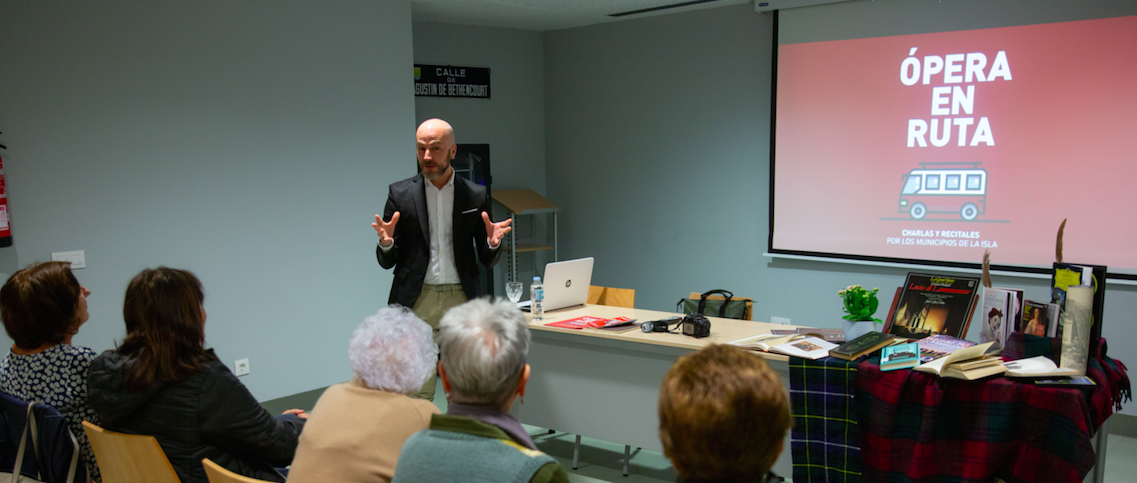 Ópera de Tenerife is giving talks on L'elisir d'amore in twelve Tenerife municipalities so that audiences can learn all about the ins and outs of this title: from the main features of the opera to anecdotes related to the author, the characters and the historical context.
These talks start tomorrow at Biblioteca Municipal de Vilaflor, at 5:00 pm and will go on until 22 October, two days before L'elisir d'amore goes on stage at Auditorio de Tenerife's Sala Sinfónica to open the opera season. Admission to these 60-minute talks is free of charge.
This cultural tour includes fifteen meetings to take place at different venues of the Red Insular de Bibliotecas Públicas [Island Public Library Network]. After Vilaflor, Ópera en Ruta [Itinerant Opera] will visit Puerto de la Cruz (19 September) and Güímar (on the 24th). The meetings in October start on the 1st at the public library of Tabaiba (El Rosario) to then go on to Los Cristianos (on the 4th), Biblioteca Adrián Alemán in La Laguna (on the 8th), Biblioteca Antonio Bello in San Juan de la Rambla (on the 10th), Candelaria (on the 11th), Garachico (on the 15th), Biblioteca del Estado in Santa Cruz (on the 16th), Centro Cultural Casa de la Castaña in La Victoria de Acentejo (on the 17th), Adeje (on the 18th) and finally, La Orotava on 22 October.
Ópera en Ruta is part of the communication strategy of Ópera de Tenerife and Auditorio de Tenerife for the 2019-2020 season. In addition to spreading knowledge about opera, it enhances the economic driving force of this Tenerife project as its productions encourage the local cultural industry.
L'elisir d'amore by Giacomo Donizetti is part of the high-specialization academy Opera (e)Studio. It is the most famous comic opera by the composer thanks to unforgettable melodies like 'Una furtiva lagrima' and it will be on stage on 24, 25 and 26 October at 7:30 pm and on Sunday, the 27th at 6:00 pm at Sala Sinfónica in Auditorio de Tenerife. This coproduction of Ópera de Tenerife, Teatro Comunale di Bologna and Tbilisi Opera and Ballet State Theatre is funded through the European Commission programme Creative Europe.
The music director of this production is Antonio Méndez and the stage director is Pablo Maritano who work along with a cast selected in auditions held specifically for the seventh Opera (e)Studio in Bologna, Tbilisi, Madrid and Tenerife.