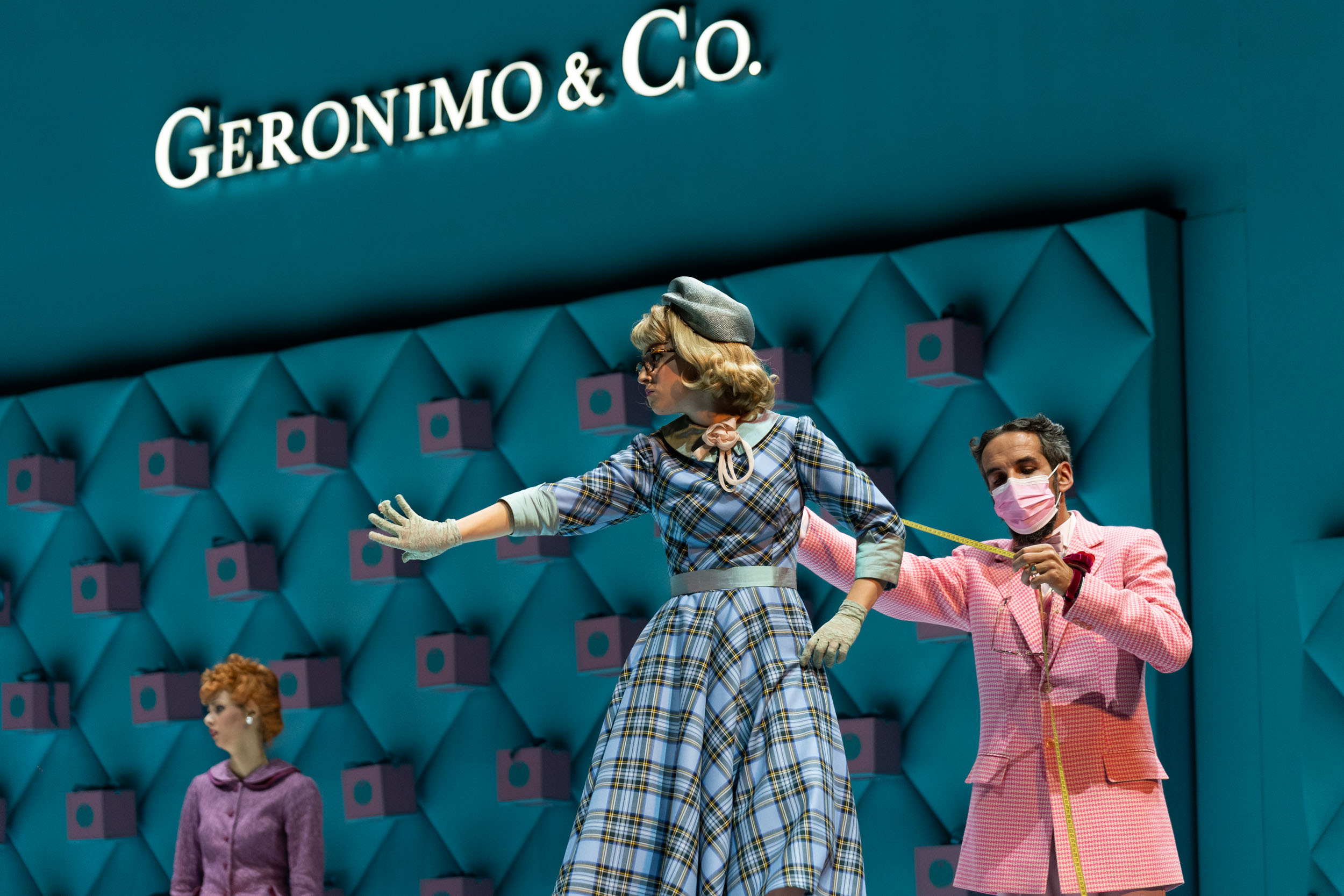 Tickets for Friday and Saturday are sold out
Tomorrow, Thursday the 18th of March at 6:00 pm, Auditorio de Tenerife premieres the opera Il matrimonio segreto, by Domenico Cimarosa. This will be the first of four performances planned for this piece, a coproduction driven by Auditorio de Tenerife together with Teatro Regio di Parma and Teatro Massimo di Palermo. The singers who comprise the eighth edition of Opera (e)Studio will feature this opera. The four daily performances until Sunday the 21st of March, will all start at 6:00 pm; tickets are sold out for Friday and Saturday. This initiative is promoted by the Department of Culture of Tenerife Island Council -managed by the Councillor Enrique Arriaga - through Ópera de Tenerife. 
Il matrimonio segreto will situate the scene in New York in the 1950s, where the patisserie Geronimo & Co. specialising in babàs (a typical sweet from Naples) is run by an Italian who misses his home-town. His youngest daughter, Carolina, has secretly married Paolino, a delivery boy at the bakery; both of them dream of starring in Broadway musicals. Geronimo's idea of marrying off his daughters to great noblemen will lead to the plot, originally set in Bologna in the 18thcentury. 
During this first performance, Italian sopranos Giulia Mazzola and Eleonora Nota will respectively take on the roles of Carolina and Elisetta; French mezzo-soprano Claire Gascoin will be Fidalma, while the male roles will be played by Turkish tenor Bekir Serbest (Paolino), Italian bass Francesco Leone (Geronimo) and Chilean baritone Ramiro Maturana (Count Robinson). This cast will be the same as in Saturday's performance.
The performances on Friday and Sunday, both starting at 6:00 pm, will feature German soprano Veronika Seghers (Carolina), Italian soprano Marilena Ruta (Elisetta), Italian mezzo-soprano Mara Gaudenzi (Fidalma), Italian tenor Antonio Mandrillo (Paolino), Lithuanian bass Ignas Melnikas (Geronimo) and Spanish baritone Jan Antem (Count Robinson). 
These singers have been on the island since 27 January when they began a training programme coordinated by Giulio Zappa, artistic director of Opera (e)Studio since 2013. Roberto Catalano is the stage director and the music will be played by the Symphony Orchestra of Tenerife conducted by Davide Levi; Emanuele Sinisi is in charge of the set design, the costumes were created by Ilaria Ariemme and the lighting designer is Fiammetta Baldiserri. All of them feature for the first time at Opera de Tenerife, except Baldiserri.
Opera (e)Studio is a project of Opera de Tenerife that aims to train singers after a comprehensive artistic improvement programme that began last January. During this multi-purpose initiative, artists work on many aspects such as techniques of musical interpretation to stage performance; style, diction, body language or dramaturgy, which will alternate with sessions resembling the real professional pace of a theatre: costume tests, make-up and rehearsals with the orchestra. 
Tickets can be purchased until two hours before the concert on the website www.auditoriodetenerife.com and by dialling the phone number 902 317 327 from Monday to Friday from 10:00 a.m. to 5:00 p.m. Saturdays from 10:00 a.m. to 2:00 p.m. By purchasing tickets, you accept the measures implemented by the cultural centre to combat Coronavirus, such as the correct use of masks and attendance to the event only with people you live with. All of the measures, as well as the contingency plan certified by AENOR, can be checked on the Auditorium's website.