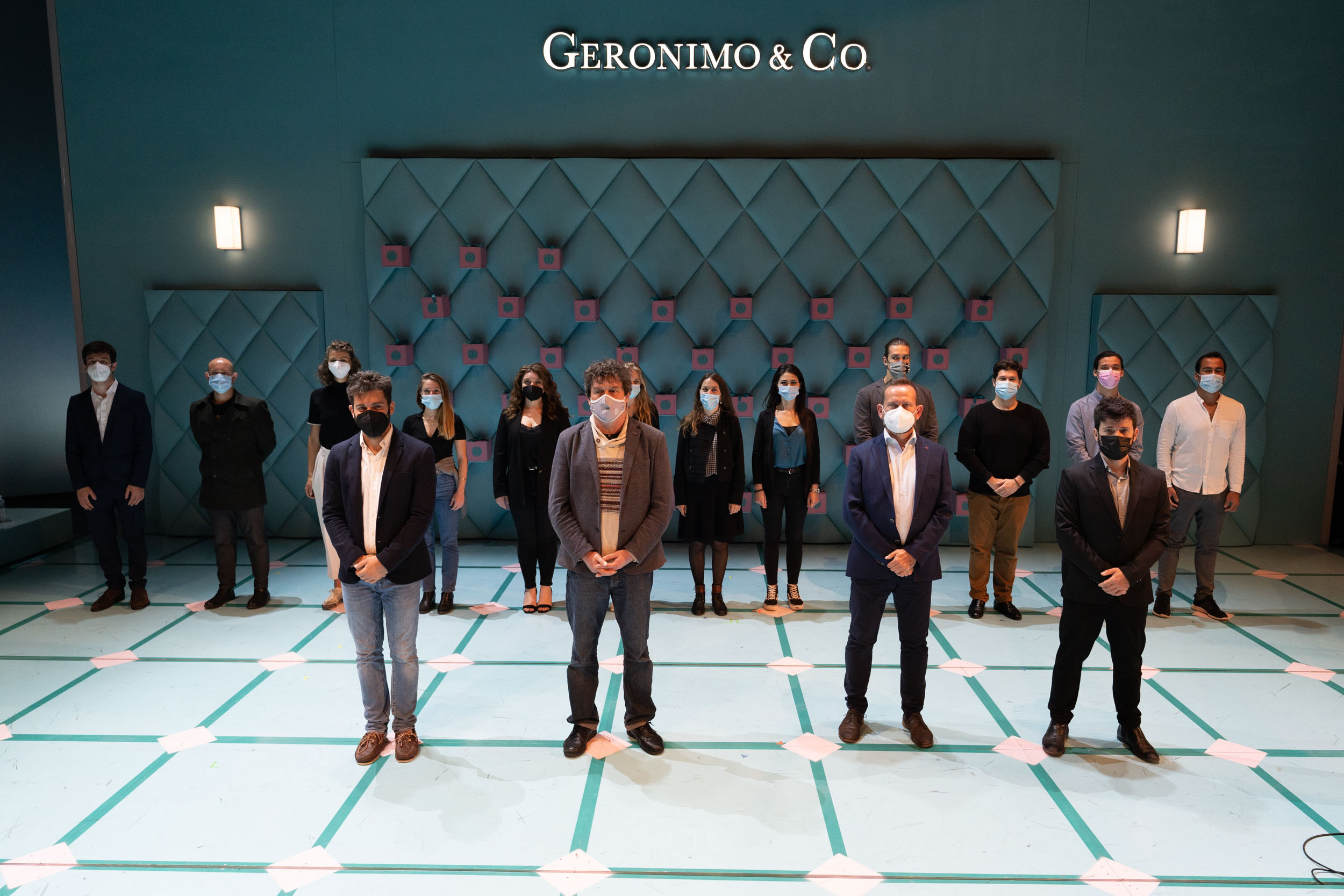 Alejandro Krawietz pointed out that this Opera (e)Studio edition has seen a record participation
Tenerife's Island Council presents the opera Il matrimonio segreto, by Domenico Cimarosa. It will be performed from March 18th to 21st in the Symphonic Hall of Auditorio de Tenerife. This opera is a co-production with Teatro Reggio di Parma and Teatro Massimo di Palermo, both of which will host it during the 2021/22 season. The staging is set in the 1950s and takes place in a New York bakery. The opera will be performed by the twelve singers who comprise the eighth class of Opera (e)Studio, a comprehensive learning project organised by Ópera de Tenerife.
The details of this production were announced today [Thursday 11] by Alejandro Krawietz, Island's Director of Culture, and Giulio Zappa, Artistic Director of Opera (e)Studio; Roberto Catalano, Stage Director and Davide Levi, Conductor. Details were announced during an informative event at which all twelve singers who will star during the four performances were also present. 
According to the Island's Director of Culture "the programme has a comprehensive character in the operatic field", qualifying it as a highlight during this season of Opera de Tenerife. Krawietz explained the difficulties inherent in this edition due to the pandemic. He also pointed out that "during their stay on the island, the twelve singers undergo a learning process with a very intense professional pace". He also declared that "singers were chosen through an international call for applications, which attracted 195 candidates, a record number in all editions that have been held".
Giulio Zappa, Artistic Director, stressed the importance of this project in which almost hundred singers have participated over the last eight years. He thanked the whole team for their involvement in bringing this work to fruition. He also hoped that "the singers will always remember this time in Tenerife, despite the fact that this year has been a bit peculiar due to the health situation"; he was confident that this experience will be "important and fun for their life and professional career". 
Roberto Catalano, Stage Director of Il matrimonio segreto, said he was "very happy to be here during this peculiar historical moment. "We have made a team effort and I thank everyone for making me feel at home. Davide Levi, Conductor, emphasised that "the Symphony Orchestra of Tenerife is doing a marvellous job". He also valued how "incredible" it is to offer a concert with audience under these circumstances, so "I am very fortunate to be part of this project".
Catalan singer Jan Antem spoke on behalf of his colleagues. "It is a challenge to perform this opera because it has a very peculiar style," said the Spanish baritone. He added that "the experience in Tenerife has been very pleasant" and also recognises that he is fulfilling a dream by being able to perform this same title in Italy, namely "in two theatres with a long tradition", such as Teatro Reggio di Parma and Teatro Massimo di Palermo.
Il matrimonio segreto is set in New York in the 1950s, where Geronimo & Co. patisserie specialising in babàs (a typical sweet from Naples) is run by an Italian who misses his hometown. His youngest daughter, Carolina, has secretly married Paolino, a delivery boy at the bakery, and both dream of starring in Broadway musicals. Geronimo's idea is to marry off his daughters to noblemen. This will lead to the plot development, which was originally set in 18th century in Bologna.
The young artists are Giulia Mazzola (Italy), Veronika Seghers (Germany), Eleonora Nota (Italy), Marilena Ruta (Italy), Mara Gaudenzi (Italy), Claire Gascoin (France), Bekir Serbest (Turkey), Antonio Mandrillo (Italy), Ignas Melnikas (Lithuania), Francesco Leone (Italy), Jan Antem (Spain) and Ramiro Maturana (Chile). In addition to Roberto Catalano and Davide Levi, the staff is rounded up with Emanuele Sinisi as set designer; Ilaria Ariemme as costume designer and Fiammetta Baldiserri as lighting director.
Opera (e)Studio is a project of Ópera de Tenerife whose aim is to train singers after a process of comprehensive artistic improvement that began last January. During this multi-purpose initiative, artists work on multiple aspects, from different techniques of musical interpretation to stage performance; style, diction, body language or dramaturgy, which will alternate with sessions resembling the real professional pace of a theatre: costume tests, make-up and rehearsals with the orchestra. 
Tickets for any of the four performances can be purchased until two hours before the concert on the website  www.auditoriodetenerife.com and by dialling the phone number 902 317 327 from Monday to Friday from 10:00 a.m. to 5:00 p.m. Saturdays from 10:00 a.m. to 2:00 p.m. By purchasing tickets, you accept the measures implemented by the cultural centre to combat Coronavirus, such as the correct use of masks and attendance to the event only with people you are living with. All of the measures, as well as the contingency plan certified by AENOR, can be consulted on the Auditorium's website.
Cast and Crew
Art Director of Opera (e)Studio: Giulio Zappa
Conductor: Davide Levi
Stage Director: Roberto Catalano
Choreographer: Sandhya Nagaraja
Scenic Designer: Emanuele Sinisi
Assistant Scenic Designer: Francesca Sgariboldi
Costume Designer: Ilaria Ariemme
Lighting Designer: Fiammetta Baldiserri
Coproduced by: Auditorio de Tenerife, Teatro Reggio di Parma and Massimo di Palermo
Symphony Orchestra of Tenerife 
 

Show on March 18th and 20th

Show on March 19th and 21st

Carolina (soprano)

Elisetta (soprano)

Giulia Mazzola

Eleonora Nota

Veronika Seghers

Marilena Ruta

Fidalma (mezzosoprano)

Claire Gascoin

Mara Gaudenzi

Paolino (tenor)

Bekir Serbest

Antonio Mandrillo

Geronimo (bass)

Francesco Leone

Ignas Melnikas

Conde Robinson (baritone)

Ramiro Maturana

Jan Antem

 

 
Figurants
The following dancers of "Centro Internacional de Danza de Tenerife" take part in all four performances: Tania Peña, Olaya Hernández, Víctor Rodríguez, Guillermo Vera and Eduardo Díez, as well as the actor Juan Pablo Domínguez.