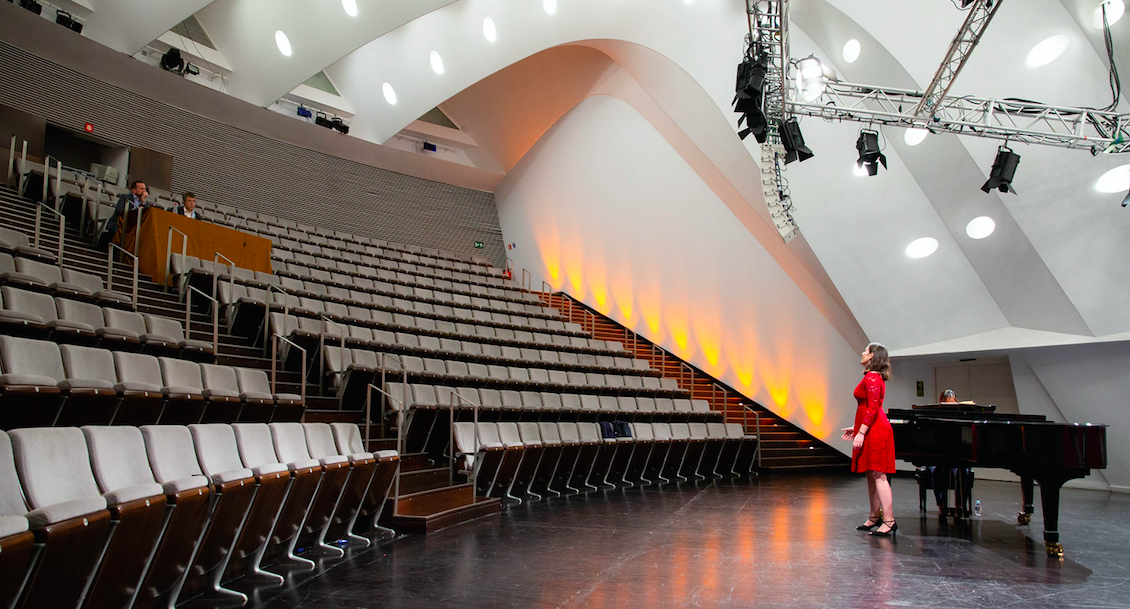 At Opera de Tenerife, in view of the extraordinary situation generated by COVID19 in recent months, we wish to convey our gratitude for the enormous trust placed in our project, evidenced by your invaluable patience while we resolved the cancellation of the Opera (e)Studio 2020 auditions for the production Il matrimonio segreto, initially scheduled for May.
Therefore, the new dates for the auditions, unless the health situation prevents it again, will be as follows:
Parma: November 30 and December 1, 2020
Palermo: December 3, 2020
Madrid: December 15 and 16, 2020
Tenerife: December 18, 2020
The registration period will end on November 10, 2020 at 6 pm.
If you have already registered and paid the registration fee, and you cannot audition in the new dates, please send us an email at This email address is being protected from spambots. You need JavaScript enabled to view it. requesting the refund of the fee, which will be transferred as soon as possible.
All persons who are already registered will receive the information by e-mail individually.
Should you require further information, please contact us at This email address is being protected from spambots. You need JavaScript enabled to view it.
We look forward to seeing you at Opera de Tenerife, and thank you for your understanding and support in this complex and difficult situation.
---
Da Ópera de Tenerife, alla luce della straordinaria situazione generata da COVID19 negli ultimi mesi, desideriamo esprimere la nostra gratitudine per l'enorme fiducia che hanno riposto nel nostro progetto, testimoniata dalla loro inestimabile pazienza mentre abbiamo risolto l'annullamento delle audizioni di Opera (e)Studio 2020 per la produzione Il matrimonio segreto, inizialmente prevista per il mese di maggio.
Pertanto, le nuove date per le audizioni, a meno che la situazione sanitaria non lo impedisca di nuovo, saranno le seguenti:
- Parma: 30 novembre e 1 dicembre 2020
- Palermo: 03 dicembre 2020
- Madrid: 15 e 16 dicembre 2020
- Tenerife: 18 dicembre 2020
Il termine ultimo per l'iscrizione è l'10 novembre 2020 alle 18:00.
Nel caso in cui non siate in grado di partecipare alle nuove date e abbiate già pagato la quota di iscrizione, vi preghiamo di inviarci una e-mail all'indirizzo This email address is being protected from spambots. You need JavaScript enabled to view it. richiedendo un rimborso, che vi sarà restituito il prima possibile.
Tutte le persone registrate finora riceveranno le informazioni via e-mail singolarmente.
Se avete domande o avete bisogno di ulteriori informazioni, contattateci all'indirizzo This email address is being protected from spambots. You need JavaScript enabled to view it.
Vi aspettiamo al Teatro dell'Opera di Tenerife e vi ringraziamo per la vostra comprensione e il vostro sostegno in questa complessa e difficile situazione.
.
Who is eligible?
The Tenerife Opera(e)Studio is open to singers of all nationalities born on or after 1 January 1988.
Participants selected for past editions of the Opera(e)Studio are not eligible to audition again.
How to participate
If you would like to take part, all you have to do is read the regulations and send the following application form to This email address is being protected from spambots. You need JavaScript enabled to view it. indicating the following in the subject: "Name and surname of the candidate – Role(s) – City of the audition" (e.g. "Mary Smith – Carolina/Elisetta – Palermo"). The application form must be sent in .doc, .docx or .rtf format. Other formats (pdf, jpg...) will not be accepted.
In the same e-mail the following documents are to be attached:
You also need to enclose the following files:

Scan of identity card or passport.
b. A recent photo in jpg. format.
c. Artistic and academic biography (1 document of 1 page, in .doc, .docx or .rtf format).
d. Pdf files of the two arias from other operas (1 pdf for each aria)
Payment of the registration fee (80€) will be made via bank transfer once the registration is confirmed and we have sent you the instructions by email.
If you have any doubts, please contact us at This email address is being protected from spambots. You need JavaScript enabled to view it.
Update Regulations (EN) Regolamento aggiornato (IT) Bases (SP)

Auditions
Each applicant must prepare for the audition all the following arias:
All the compulsory arias of the chosen role from Il matrimonio segreto by Domenico Cimarosa (see regulations). The reference edition will be Ricordi.
Two arias in Italian of their own choice by Pergolesi, Galuppi, Piccinni, Paisiello, Cimarosa, Haydn, Salieri, Mozart or Rossini, with Recitativo.
All the arias and extracts must be performed from memory.
The auditions for the Opera (e)Studio 2018 will take place in the following cities and dates:
[All auditions will be live. Audio or video recordings will not be considered]
Parma
30 November and 1 December 2020
Teatro Regio di Parma
Str. G. Garibaldi, 16/a, 43121 Parma, Italia

Palermo
3 December 2020
Teatro Massimo di Palermo
Piazza Verdi, 90138 Palermo, Italia

Madrid
15 and 16 December 2020
Escuela Superior de Canto
Calle San Bernardo 44, 28015 Madrid, Spain

Santa Cruz de Tenerife
18 December 2020

Auditorio de Tenerife
Avda. Constitución, 1, 38003 Santa Cruz de Tenerife, Spain