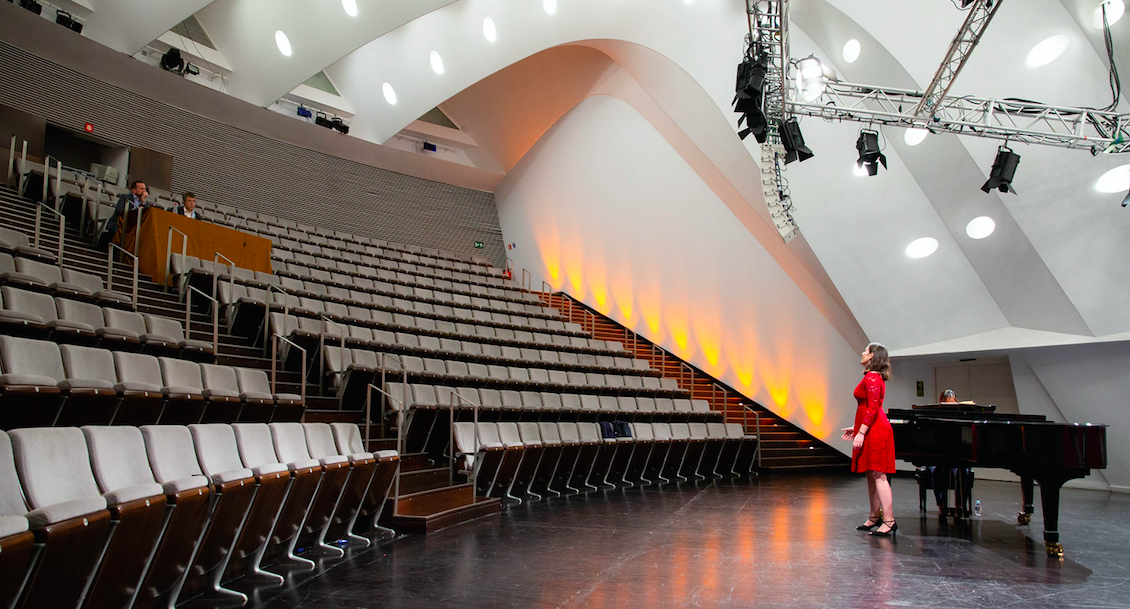 ATTENTION / ATTENZIONE
Ópera de Tenerife, in view of the extraordinary and emergency health situation in which the world finds itself, and given the mobility restrictions in force throughout Europe, is forced to postpone, due toforce majeure, the auditions for Opera (e)Studio 2020 for the production Il matrimonio segreto until the autumn of 2020. This production will take place in the period of February-March 2021, if the exceptional situation allows it.
Therefore, in order to always provide the best options to interested artists, possible audition dates will be communicated as soon as possible. The registration period will therefore remain open until further notice.
All those already registered shall receive the information by e-mail individually.
If you have any questions or need further information, please contact us at This email address is being protected from spambots. You need JavaScript enabled to view it..
Despite all the problems that the world of opera is experiencing at the moment, we encourage all interested artists to face the future with hope and enthusiasm. We wait for you at Ópera de Tenerife, and we thank you for your understanding and support in the face of this difficult situation that we are all living through.
---
Ópera de Tenerife, data la situazione straordinaria di emergenza sanitaria in corso in tutto il mondo e date le restrizioni di spostamento in tutta Europa, si vede costretta per cause di forza a maggiore a rinviare le audizioni di Opera (e)Studio 2020 per la produzione Il matrimonio segreto all'autunno 2020. La suddetta produzione avrà luogo nel periodo febbraio-marzo 2021, sempre e quando la situazione lo permetta.
Con lo scopo di offrire le migliori condizioni agli artisti interessati, le possibili date delle nuove audizioni verranno comunicate in breve. La raccolta delle iscrizioni rimane aperta fino a nuovo avviso.
Tutte le persone che si sono iscritte finora riceveranno le informazioni individualmente via e-mail. Per qualunque dubbio o informazione si consiglia di mettersi in contatto con noi scrivendo a This email address is being protected from spambots. You need JavaScript enabled to view it..
Nonostante gli inconvenienti che stiamo vivendo in questi momenti, invitiamo tutti gli interessati ad affrontare con la massima speranza il futuro dell'opera lirica, massima espressione della civiltà occidentale, perché continui a vivere con maggior forza. Vi aspettiamo a Opera di Tenerife e vi ringraziamo per la comprensione e appoggio di fronte a questa situazione difficile in cui dobbiamo vivere.
.
Who is it for?
The Tenerife Opera(e)Studio is open to singers of all nationalities born on or after 1 January 1988.
Participants selected for past editions of the Opera(e)Studio are not eligible to audition again.
How to participate
If you would like to take part, all you have to do is read the regulations and send the following application form to This email address is being protected from spambots. You need JavaScript enabled to view it. indicating the following in the subject: "Name and surname of the candidate – Role(s) – City of the audition" (e.g. "Mary Smith – Carolina/Elisetta – Palermo"). The application form must be sent in .doc, .docx or .rtf format. Other formats (pdf, jpg...) will not be accepted.
In the same e-mail the following documents are to be attached:
You also need to enclose the following files:
a. Scan of identity card or passport.
b. A recent photo in jpg. format.
c. Artistic and academic biography (1 document of 1 page, in .doc, .docx or .rtf format).
d. Pdf files of the two arias from other operas (1 pdf for each aria)
Payment of the registration fee (80€) will be made via bank transfer once the registration is confirmed and we have sent you the instructions by email.
If you have any doubts, we are happy to help you at This email address is being protected from spambots. You need JavaScript enabled to view it.
Regulations (EN) Regolamento (IT) Bases (SP)

Auditions
Each applicant must prepare for the audition all the following arias:
All the compulsory arias of the chosen role from Il matrimonio segreto by Domenico Cimarosa (see regulations). The reference edition will be Ricordi.
Two arias in Italian of their own choice by Pergolesi, Galuppi, Piccinni, Paisiello, Cimarosa, Haydn, Salieri, Mozart or Rossini, with Recitativo.
All the arias and extracts must be performed from memory.
The auditions for the Opera (e)Studio 2018 will take place in the following cities, in autumn of 2020, on a date to be determined:
[All auditions will be live. Audio or video recordings will not be considered]
Escuela Superior de Canto de Madrid
Calle San Bernardo 44, 28015 Madrid, Spain
Teatro Regio di Parma
Str. G. Garibaldi, 16/a, 43121 Parma, Italy
Teatro Massimo di Palermo
Piazza Verdi, 90138 Palermo, Italy
Auditorio de Tenerife in Santa Cruz de Tenerife
Avda. Constitución, 1, 38003 Santa Cruz de Tenerife, Spain