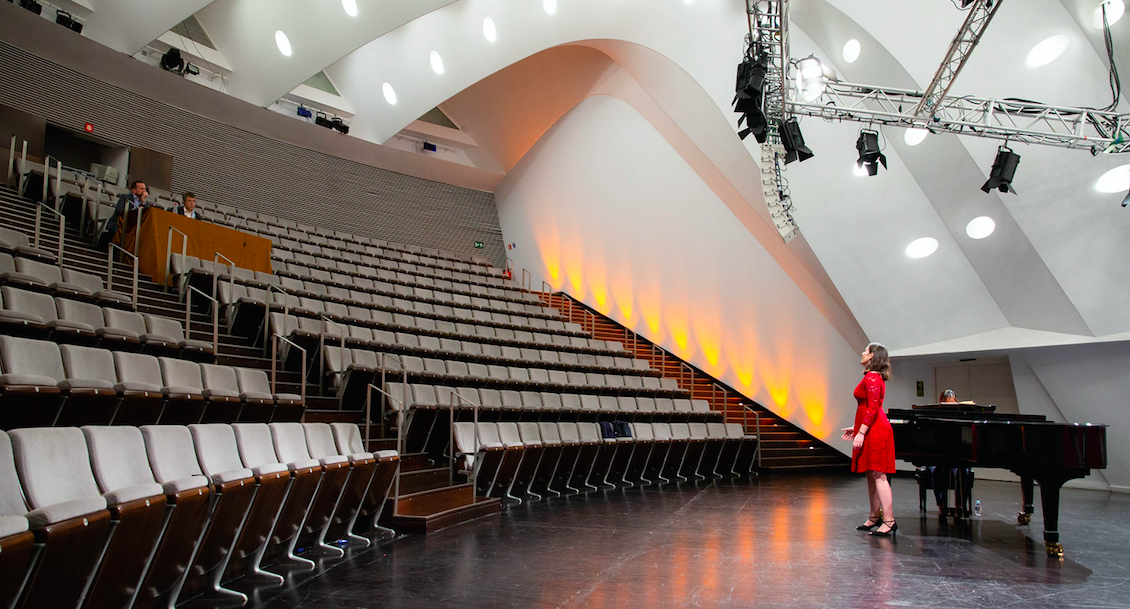 ATTENTION!
Due to the measures being taken at international level in response to the covid-19 coronavirus, the celebration of the scheduled auditions will be subject to the legal provisions that may be enforced by the Governments and competent authorities in the places where the auditions are to take place in Spain (Tenerife/Madrid) and Italy (Parma/Palermo). It is our intention to safeguard the safety and health of all participants of Opera (e)Studio, and at the same time, guarantee the opportunity to participate in this international program. Therefore, should auditions be suspended or cancelled due to force majeure, all efforts will be made to reschedule them, and the registration fee will be refunded to candidates who cannot reschedule their audition on the new dates.
Who is it for?
The Tenerife Opera(e)Studio is open to singers of all nationalities born on or after 1 January 1988.
Participants selected for past editions of the Opera(e)Studio are not allowed to audition again.
How to participate
Opera (e)Studio, Ópera de Tenerife's comprehensive opera school for young artists, has opened the call to take part in the 2020 - 2021 production Il matrimonio segreto
If you would like to take part, all you have to do is read the regulations and send the following application form to This email address is being protected from spambots. You need JavaScript enabled to view it. before 19 April 2020 at 18:00h indicating the following in the subject: "Name and surname of the candidate – Role(s) – City of the audition" (e.g. "Mary Smith – Carolina/Elisetta – Palermo"). The application form must be sent in .doc, .docx or .rtf format. Other formats (pdf, jpg...) will not be accepted.
In the same e-mail the following documents are to be attached:
You also need to enclose the following files:

a. Scan of identity card or passport.
b. A recent photo in jpg. format.
c. Artistic and academic biography (1 document of 1 page, in .doc, .docx or .rtf format).
d. Pdf files of the two arias from other operas (1 pdf for each aria)
e. Scan of the receipt of the payment of 80 euros to "Opera (e)Studio de Ópera de Tenerife". You can consult all the bank details and information in the regulations below.
If you have any doubts, we are happy to help you at This email address is being protected from spambots. You need JavaScript enabled to view it. or by telephone on +34 922568600 ext. 179.
Regulations (EN) Regolamento (IT) Bases (SP)

Auditions
Each applicant must prepare for the audition all the following arias:
a. All the compulsory arias of the chosen role from Il matrimonio segreto by Domenico Cimarosa (see below). The reference edition will be Ricordi.
b. Two arias in Italian of their own choice by Pergolesi, Galuppi, Piccinni, Paisiello, Cimarosa, Haydn, Salieri, Mozart or Rossini, with Recitativo.
All the arias and extracts must be performed from memory.
The auditions for the Opera (e)Studio 2018 will take place in:
[All auditions will be live. Audio or video recordings will not be considered]
11 and 12 May 2020 / Escuela Superior de Canto de Madrid

Calle San Bernardo 44, 28015 Madrid, España
14 y 15 May 2020 / Teatro Regio di Parma
Str. G. Garibaldi, 16/a, 43121 Parma, Italia
17 May 2020 / Teatro Massimo di Palermo

Piazza Verdi, 90138 Palermo, Italia
19 May 2020 / Auditorio de Tenerife, Santa Cruz de Tenerife
Avda. Constitución, 1, 38003 Santa Cruz de Tenerife, España