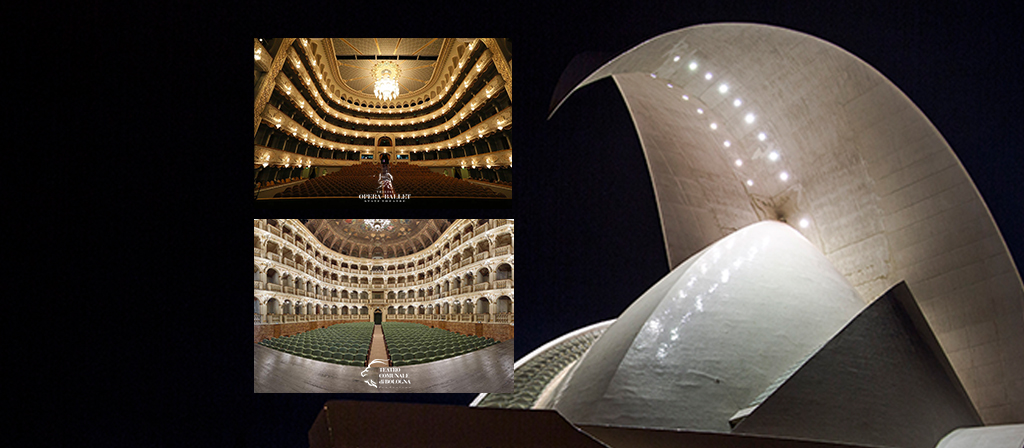 Opera (e) Studio 2019/2020 is funded by the European Commission through the Creative Europe programme. It is led by Ópera de Tenerife in partnership with Teatro Comunale di Bologna and Tbilisi Opera and Ballet State Theatre.
L'elisir d'amore will be performed four times from 24 to 27 October 2019 at Sala Sinfónica in Auditorio de Tenerife. In 2020 the same cast will perform at Teatro Comunale di Bologna and at Tbilisi Opera and Ballet State Theatre.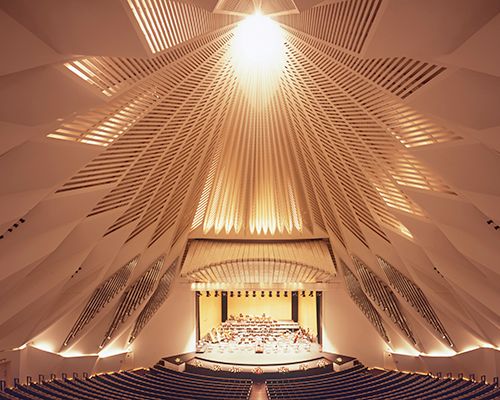 Since it opened in September 2003, Auditorio de Tenerife, an opera house publicly owned by Cabildo de Tenerife (Island government), has become the main cultural driving force of the Island and an architectonic and artistic symbol for the Tenerife society. It boasts a spectacular stage and several halls which have allowed for larger, riskier stage productions which had not been possible in the Canaries until now. Endowed with state-of-the-art architecture designed by renowned architect Santiago Calatrava, the Auditorio de Tenerife is a truly striking building, thanks to its curved lines, the shape of its wing and the trencadís mosaic facade, reminiscent of Gaudí's style. Auditorio de Tenerife is the most important production centre in the Canary Islands, and that news has spread not only to the rest of Spain, but also to other countries with whom we maintain important collaborations linked to the opera. We are also connected to opera houses worldwide through our memberships with Opera Europa and Opera Latino America. Also worthy of special mention is the work undertaken by the Auditorio towards the creation of new audiences with its own productions, especially adapted to young and family audiences, as well as a broad repertoire ranging from the most conventional titles to the most novel and original proposals. The Opera de Tenerife Project – involving the Tenerife City Council through Auditorio de Tenerife – breathes new life into the opera season, with innovations like Opera de Tenerife International Singing Competition or the creation of the Opera (e)Studio comprehensive training academy which works with young singers offering them a chance to train in all the artistic and dramatic disciplines of opera with the staging of an opera produced by the Auditorio de Tenerife.
Contact us at This email address is being protected from spambots. You need JavaScript enabled to view it.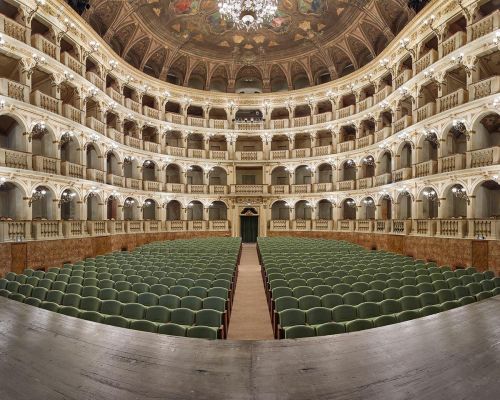 Teatro Comunale di Bologna (TCBO) is an Opera House with a special national interest, chaired by the Mayor of Bologna. The theatre works and operates with main public and private Italian and European institutions within the cultural and live-arts scope. TCBO is committed to collaborations with other European theaters such as Covenant Garden (London), Liceu (Barcelona), La Monnaie (Brussels), Wielki (Warsaw), etc. It also collaborates with international theatres in the USA, Brazil, Russia, Japan, etc. A special focus is given to develop new audiences, to create national and inter-European projects in order to stimulate circulation of works and artists, and the study and knowledge of the Italian musical heritage. TCBO is committed to youth through its Higher Education Academy of Music and its close relationships with universities, conservatories and high schools. It also holds regular auditions for young artists initiating their careers.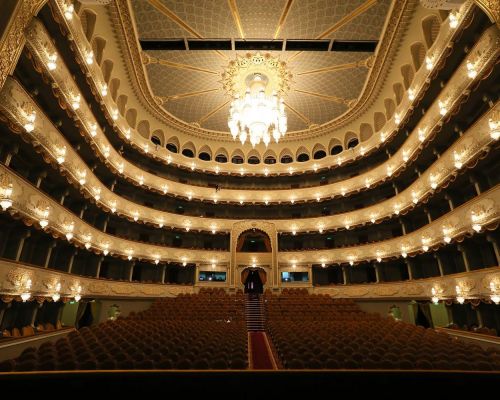 Tbilisi State Opera and Ballet Theatre established in 1851, is a professional company offering opera and ballet productions of outstanding quality. It presents classical and innovative repertoire and important rarely performed works. It enriches the community through outreach and education programs and by keeping classical music affordable. Activities include: creating opera and ballet productions and performances and symphony music concerts in Georgia and abroad; professional development of young artists; international auditions; cultural exchange; education projects to promote classical music among youth; promote Georgian culture on international market. It collaborates with world renowned artists, and prestigious international festivals (Dalhalla Opera Festival in Rattvik, Sweden; Rishon LeZion Spring Festival, Israel; Music Festival ArsLonga in Moscow, Russia; Gijon Opera Festival, Spain; Gubbio Opera Festival, Italy; Al Bustan International Festival of Music and Arts in Beirut, Lebanon; Saaremaa Opera Days in Estonia, Festival Puccini in Torre del Lago, Italy, Festival Internazionale di Mezza Estate in Tagliacozzo, Italy, etc).